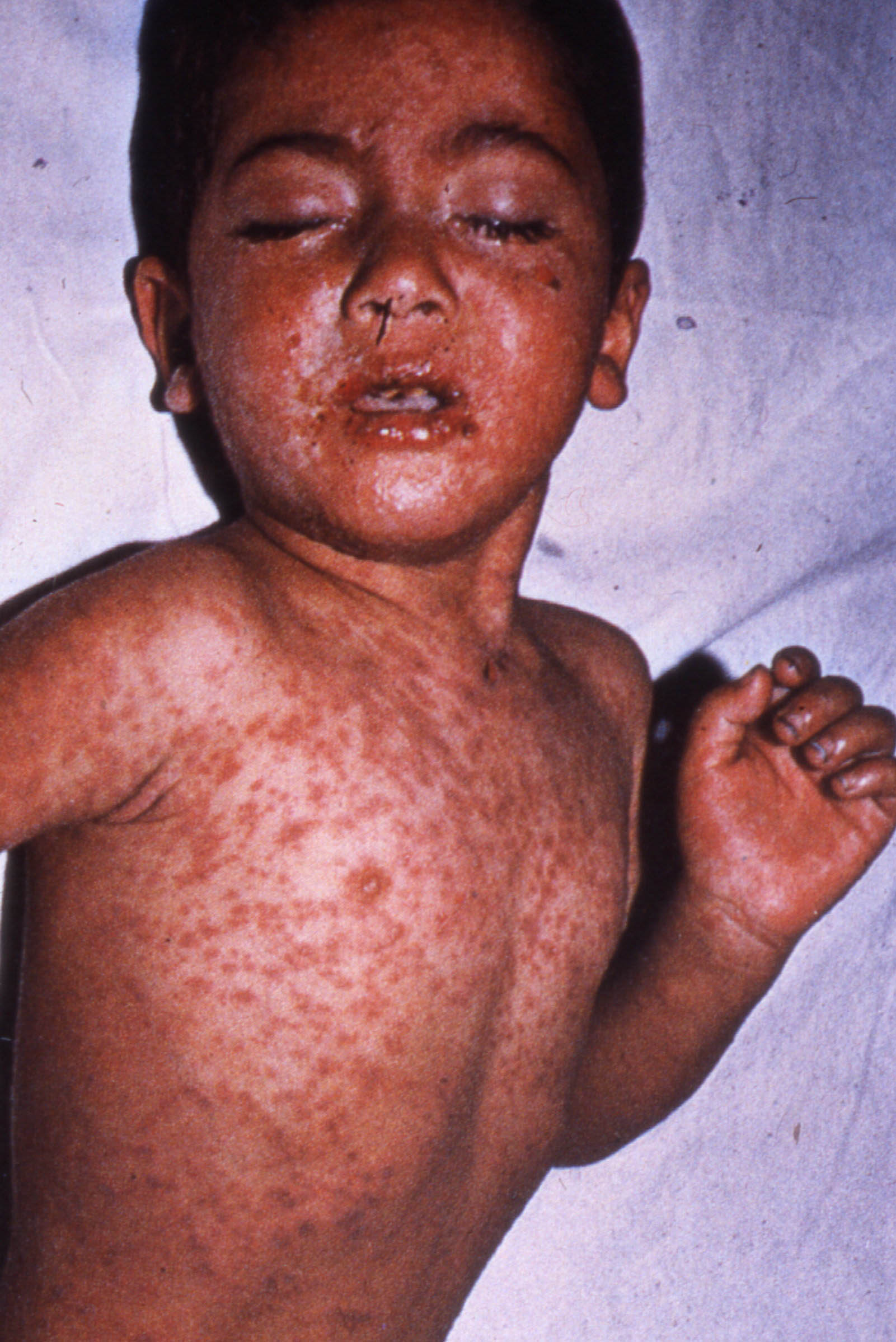 Types of Viral Rashes Seen
There are two major groups of viral rashes. So called non specific viral rashes and 'classic rashes'.  The latter group have a variety of names and distinct patterns. Of these the most serious include measles, mumps, rubella and chicken pox which are currently covered in the immunisation schedule.
Classic Rashes- and their names
Measles
This is rare. The child will have high fever, runny nose, hacking cough, conjunctivitis and be quite unwell. The rash appears around day 4, begins on the face and neck and spreads to the trunk. The number of cases has recently increased due to lower vaccination rates.
Rubella
Is also known as German Measles. This is a milder illness than measles with the rash less intense. There is usually no cough, conjunctivitis or prolonged fevers. The danger of rubella is its effect on a foetus. It is rare due to current immunisations.
Roseola Infantum
This is a common viral illness that is generally not serious. It can occur in infants and toddlers and is caused by a member of the herpes family.  This illness starts with a high fever which can trigger febrile seizures in those children that are prone to it. The fever lasts 48 to 72 hours then disappears. A few hours later a spotty rash will appear on the trunk and spread to the neck and arms leg. It will blanch (almost disappear) when pressed and is not itchy. This virus is not serious for the child or a pregnant mother.
Erythema Infectiosum
This is also known as slapped cheek or fifth disease and is caused byparvovirus B19. (Unrelated to dog parvovirus). The rash will start on the face, then spread over the next few days to the trunk and arms. It can have a lacy appearance. There is sometimes a lowgrade fever. In adolescents and adults this virus can cause some sore swollen joints. There are some rare complications of this virus in pregnancy. But like all viruses this is only if the Mother has not been exposed to the virus in the past. The child is only infectious prior to the rash emerging.
Hand Foot Mouth Disease
A very common viral illness caused by a number of viral strains, most commonly coxsackie and enteroviruses. The toddler will have a high fever, ulcers in the throat, aroundthe mouth and blisters on the hands feet and nappy area. Although miserable, and uncomfortable it is generally not serious and there is no specific treatment.  It has nothing to do with the similar named illness that effects cattle.
Chicken Pox or Varicella

This illness used to be very common and sometimes had serious life threatening complications.  The illness starts out as a fever, aches pains, and then the characteristic rash appears. There can be hundreds of lesions and the child will be quite infectious. Nowadays there is a vaccination currently on the immunisation schedule. However if you are an adult and are unsure ifyou have had chicken pox then it is worthwhile getting a blood test to find out. If the blood test shows you have not had chicken pox then it is worthwhile getting the vaccine.
Other Viral Rashes
There are a number of other viruses (up to 30) that will cause non specific red rashes, sometimes with a temperature or cold like symptoms. These rashes can be similar to some of the classic rashes mentioned above. Many so called 'heat rashes'  are mild non specific viral rashes. Sometimes viruses can cause urticaria or hives. 
https://childhealth.com.au/wp-content/uploads/2013/11/measles_3.jpg
2398
1601
childhealthsp
http://childhealth.com.au/wp-content/uploads/2013/11/childhealthlogo.png
childhealthsp
2014-11-15 04:40:50
2015-11-06 01:35:26
Viral Rashes